A question has come up repeatedly over the years as to what to use for Wisconsin history –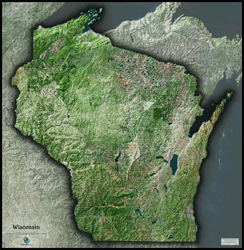 particularly if you are like me and you use Charlotte Mason's philosophies and methods and are wanting to use living books in this part of your child's education as well. There have always been some suggestions made, but nothing written in stone. So, I decided to take on the project of coming up with some good suggestion. To be honest, I will likely add ideas to this list as I go along. I have included suggestions from others (people that I know love Mason's methods and know what a good, living book looks like!). I am including books of various interest, reading levels, etc. I don't think you should confine your learning about your home state to just one year and would suggest picking out one or two to read each year. To be honest, having lived in both Indiana and Oklahoma prior to Wisconsin, Wisconsin is an amazing state with a long, wonderful history and the geography of our state is amazing as well.
I found a couple of books that might be okay on the WHSP site, but I had to turn to my library to find better books. There are some real gems in the older books from WHSP. I know Charlotte Mason people are often pigeon-holed as only using old books, but you know – that is because there is a LOT of fluff out there in the more recently printed books. Not that there are not any living books being currently written, but they are few and far between, particularly when you are looking at a relatively narrow subject (when just about any old thing can be published) and it can be like looking for a needle in a haystack at times, particularly in the history genre. There are a lot of "just the facts"/dry books out there – full of information, but really awful to read. There are also a lot of dumbed down books that only have basic facts and are worse than awful to read. One book, called Wisconsin: Celebrate the State by Zeinert & Hart written in 2007 stated that people in Wisconsin like to complain about the weather....but, by an large, while not a living book, it was not dumbed down or hard to read. Lots of facts about Wisconsin. I did not think it would be one of my favorites and that is still the case, but it is not a bad book for a quick overview. Wow....did I really just say that? LOL!
Here we go:
"Rockbridge was the exclamation point on the route. For it is a real rock bridge! This formation of stone, one layer upon another, ten miles north of Richland Center, crosses the east branch of the Pine river. A solid wall of rock sixty feet high, one hundred feet thick and about a mile long is what proved to the world that at one time it constituted a part of the shore line of what was probably a large body of water. Cutting its way through this wall of rock, the Pine river, eight feet wide and no longer that deep, has built over itself a natural bridge. Although it is sufficiently wide, it does not serve as a wagon bridge, but is used only by visitors who go on foot. Those travelers are rewarded for their climb to the top of the bridge by lovely wild flowers, pins and birch trees. It is the one spot in Richland County where trailing arbutus grows. In the fall, bittersweet may always be found there."
----------------------------------------
------------------------------------------
-----------------------
I can see that there are lot more books on Good Reads under Wisconin History that I want to take a look at. I have a few more on request through our library as well, because....rabbit trails to more interesting looking books. If you have great suggestions, please let me know!
-------------------------------------